To get best prices and shipping charges , Call now (416)-710-6777

Welcome to pads promo,
Pad Promo came into business in 2010.

Within a short span of seven years the company has grown to be a major source in the auto dealers' procurement industry and promotional products industry.

Our clients count on us for high quality products, timely service, and competitive prices.

And that is what we deliver each and every day. From business cards to customized flags and apparels to license plate frames, we do it all.

If you need a product that you do not see in this catalog, please give us a call.

Given the space constraint, not all our products appear in this catalog.

If it's printable, we can do it all.
Our commitment to you is the best product at the best price in the shortest amount of time.
Featured Item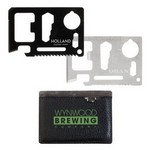 Grylls Survival Pocket Tool
This 11 function tool is the perfect gift for any occasion. Stainless steel construction and crammed with 11 tools into 1 credit card size that fits into any wallet. Includes a can opener, bottle open...
C$3.11 - C$4.59
Signature Showrooms